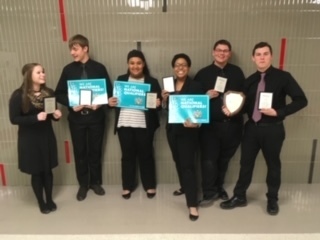 On to Nationals
Randy Bolton
Monday, February 17, 2020
Huge shout out to the members of Clarke Speech team. They had many accomplishments this past weekend at the East Iowa National Speech and Debate National Qualifier.
The team secured a first ever Speech Sweepstakes award of all speech teams at the contest (previous high was 3rd)
The top 2 finalists in all categories advance to Nationals and Clarke had the following:
2 Duo Interpretation teams consisting of Kennedy Bland & Ely Crawford, Derik Hill & Lexi Cooper
1 Dramatic Interpretation – Daniel Hill
1 Program of Oral Interpretation – Gracie Wilborn
And one 1st alternate in Duo – Gracie Wilborn & McCormick Evink (if one of the other duos can't go (ours) – then they would be bumped up!)
Thank you to the teachers for allowing these kids out of class, sometimes allowing them to use your rooms for practice and for helping them with their selections.